Have you ever noticed how most keyboard and mouse peripherals on the market are designed quite ordinary? Well, the LOFREE brand certainly does not tolerate the presence of unattractive products. Let me share my recent acquisition, the Lofree 1% Dual Mode Mechanical Keyboard, which not only raises the visual appeal of mechanical keyboards to new heights but also delivers a satisfying typing experience.

I. What is 1%?
1% is the cross line between good and best. Go minimal with LOFREE ultimate purity in your personal desktop setup. Lofree uses 1% transparent PC material to highlight and reveal the raw beauty of our craftsmanship, from keycaps through the bottom case.
Explore more of other transparent or clear Keycaps or Keyboards (Click here)

II. Unboxing the Product
Beauty lies in every aspect, and Lofree understands the importance of having its own unique style. The Lofree 1% Mechanical Keyboard comes in a windowed packaging that allows a glimpse of the keyboard through its semi-transparent box.

The package includes a data cable, elegantly crafted with a 90° bend type-C interface that perfectly matches the keyboard, ensuring a refined look during connections.
III. Delving into the Details
The keyboard features a compact 68-key layout, complemented by the multi-functional Fn key to meet various input needs. Its smaller form factor allows for better space management on your desk.
A decorative metal strip adorns the sides of the keyboard, adding a touch of warmth to its design. "Touch the warm glow" indeed creates a cozy ambiance, especially when paired with the right home environment.
The Lofree 1% Mechanical Keyboard offers both Bluetooth and wired connections, as indicated in the top right corner, with corresponding light indicators for the keyboard's operating mode.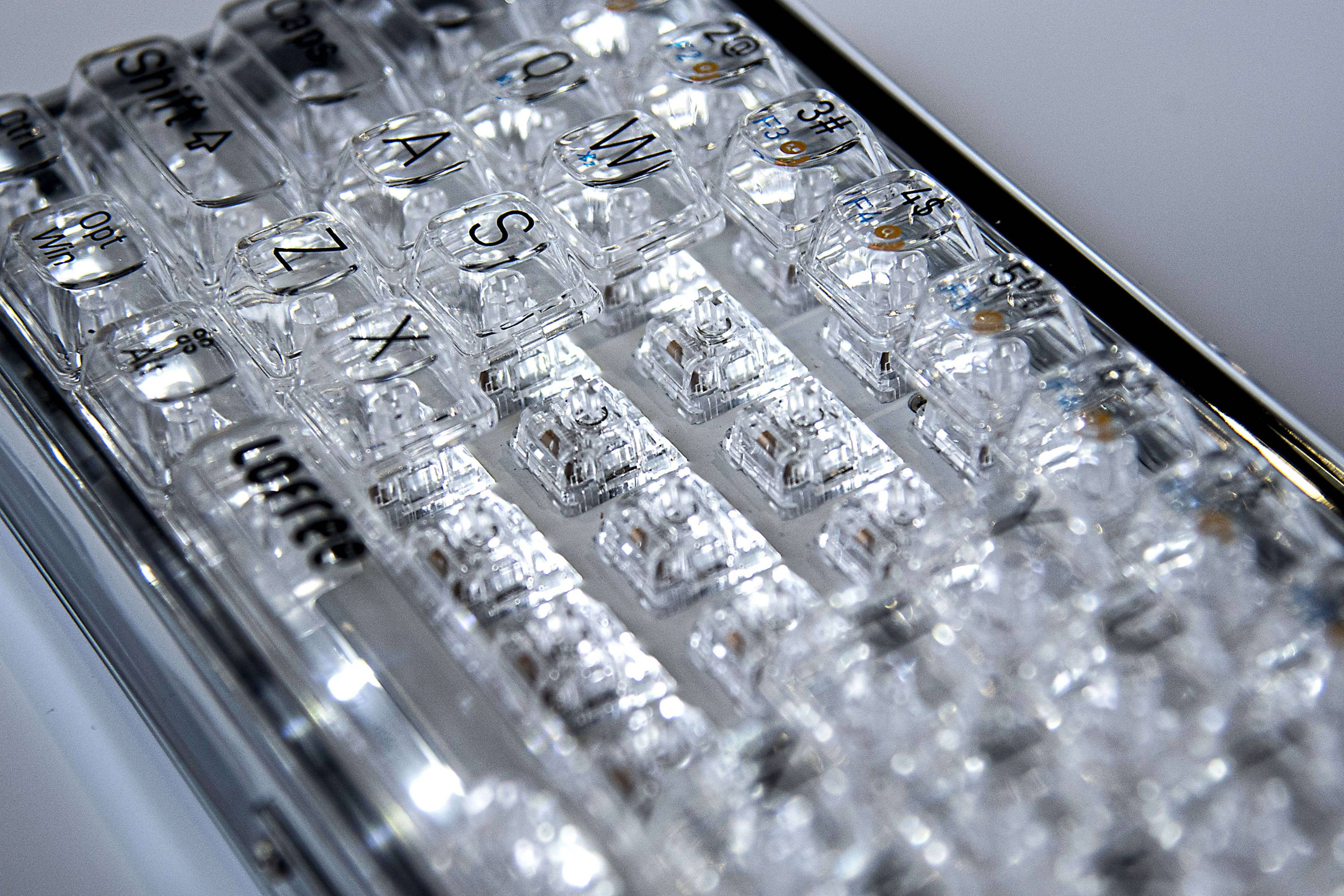 Located at the back is a toggle switch for platform selection, making it compatible with Windows, Mac OS, Android, and iOS devices, catering to most mainstream platforms.
I personally prefer the stability of a wired connection. Lofree's visually appealing data cable serves as an additional incentive, ensuring a smooth typing and gaming experience without worrying about signal interference or latency issues.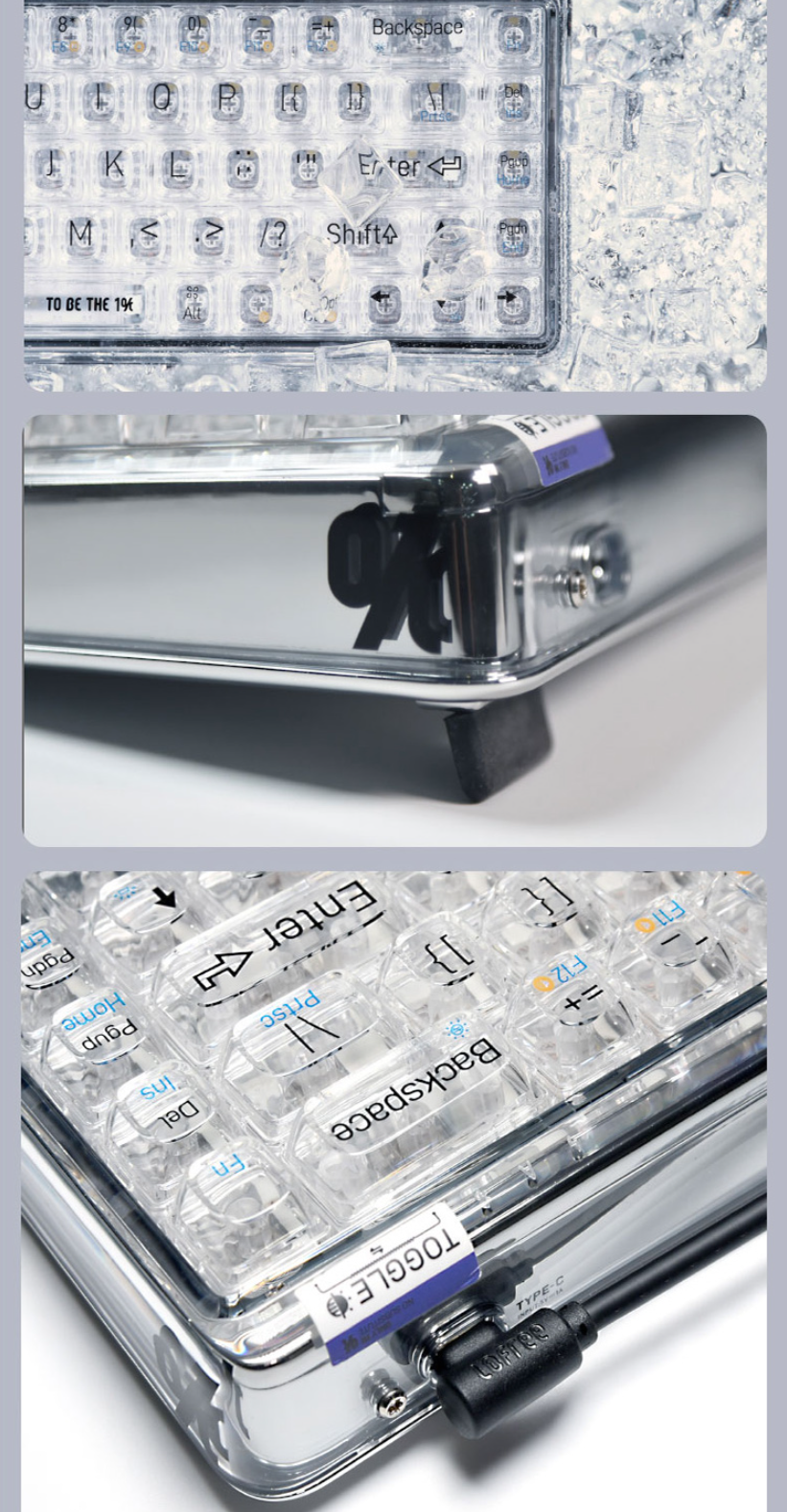 The keyboard's backside features adjustable flip-out stands, allowing you to switch between two different heights for personalized comfort. I find the non-elevated position more comfortable, but adding a wrist rest would enhance the experience when using the elevated position.

The use of translucent materials throughout the keyboard design exudes a sense of exploration. The semi-transparent texture, combined with the projection of light, enhances the overall warm and welcoming feel.
Ⅳ. Keycaps and Switches
Keycaps and switches are the soul of a mechanical keyboard, significantly influencing the typing experience and visual appeal.

Explore how to chose Switches (Click here)
Lofree's designers put considerable effort into crafting the keycaps. They adopt a central control structure, with texture applied within the keycaps while maintaining a smooth surface for comfortable touch.

The keycap design incorporates generous blank spaces, reducing light obstruction, and enhancing the overall projection of light.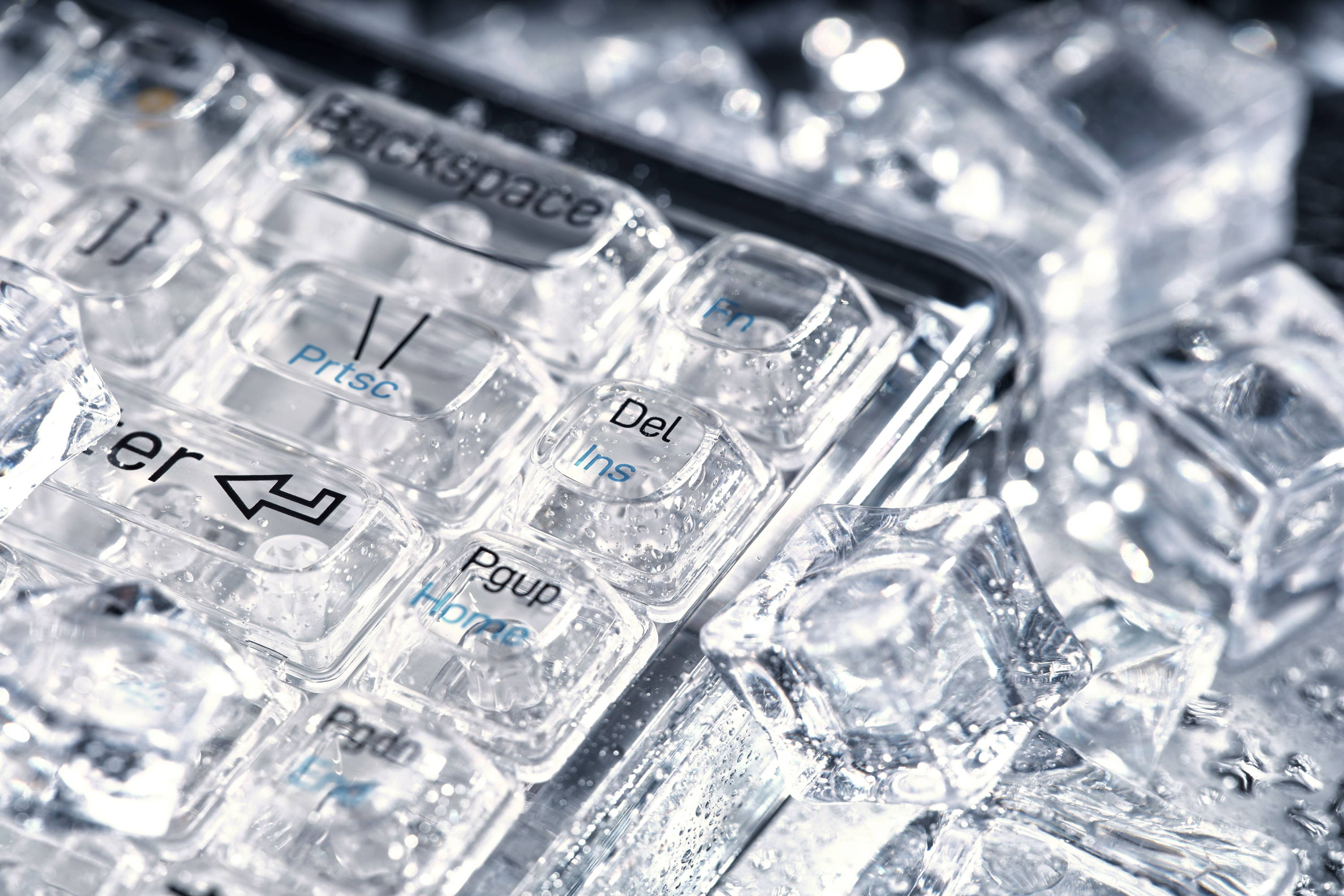 While this keyboard features single-color warm light, some RGB enthusiasts might perceive it as too monotonous. Yet, this is an intelligent decision by Lofree's designers. With seven different lighting effects and four brightness levels, the keyboard offers sufficient customization without overwhelming aesthetics.

The Lofree 1% Mechanical Keyboard uses the Kailh MX Transparent Jellyfish switch, which offers a smooth linear feel, similar to the Cherry MX Red. The switch's linear actuation and consistent keystroke contribute to a fluid typing experience.
Explore more Kailh Switches (Click here)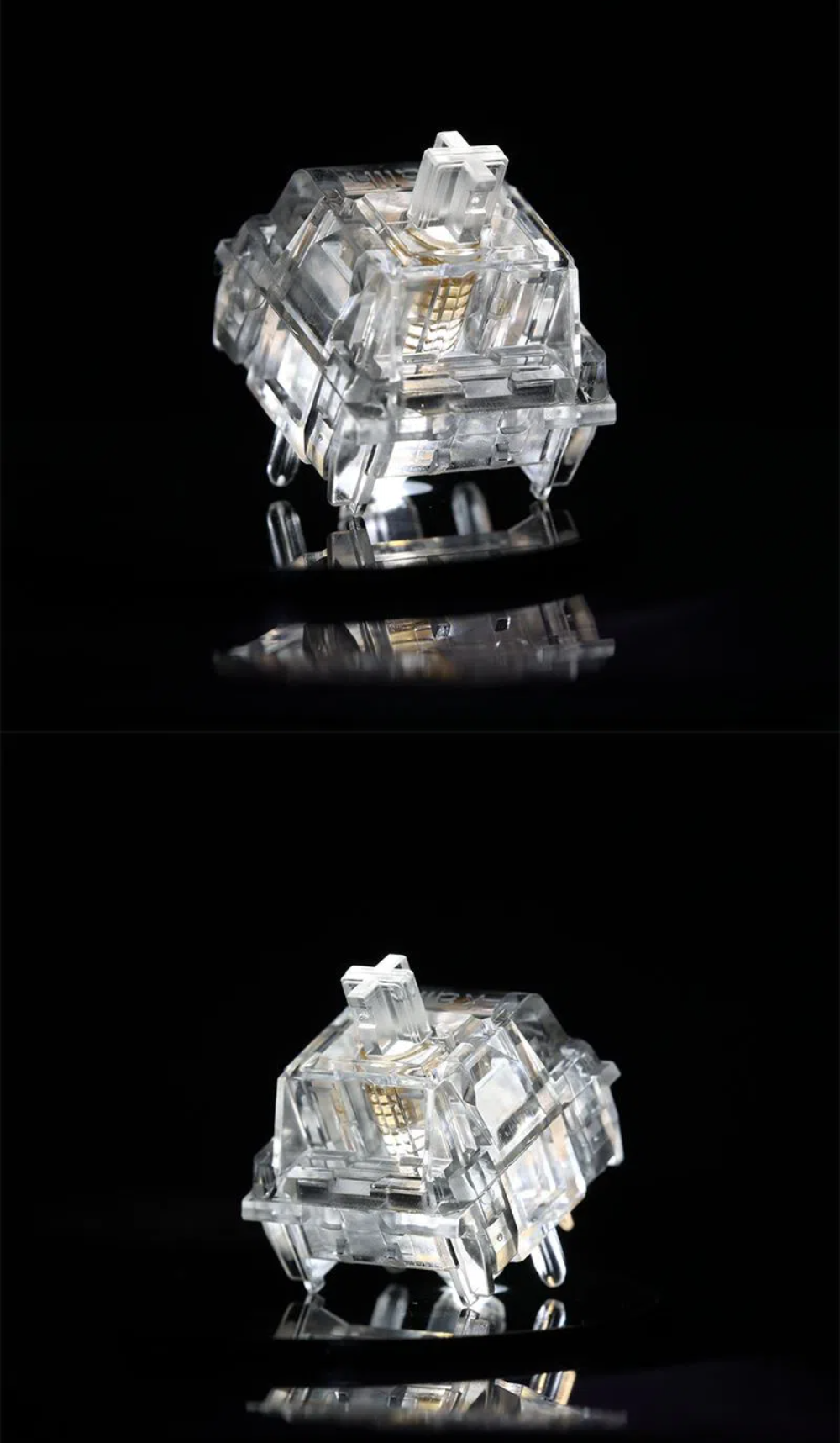 The Gasket structure appears to be utilized in this keyboard, incorporating positioning plates, dampening foam, and switch cushions. Although this design incurs higher costs, it ensures uniform and consistent tactile feedback, providing a smooth typing experience, making it ideal for users who engage in heavy typing or coding.

The keyboard supports N-key rollover, which might not be essential for office use but is crucial for gaming. The switches are hot-swappable, allowing users to customize their keyboard by changing switches with ease. Here's a small suggestion - including a keycap puller and switch puller would provide added convenience for users interested in DIY modifications.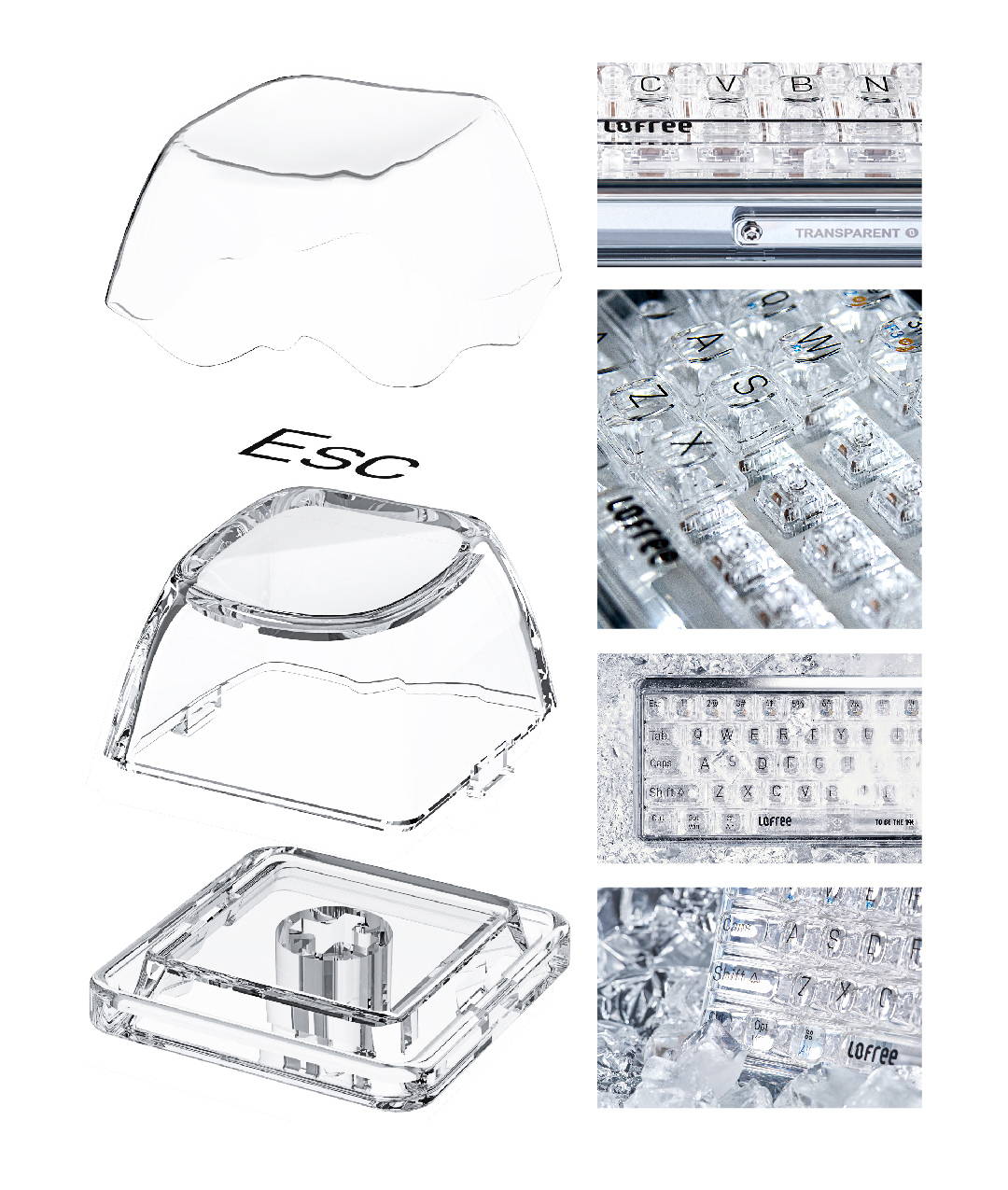 Dual-mode keyboards raise concerns about battery life. The Lofree 1% Mechanical Keyboard is equipped with a 2000mAh battery, offering approximately 100 hours of Bluetooth connectivity without backlighting and up to 10 hours at the highest brightness level. With such endurance, it can readily accommodate a day's worth of work and beyond.

In conclusion, the Lofree 1% Dual Mode Mechanical Keyboard is not just an ordinary peripheral. With its attention to aesthetics and functionality, it elevates the mechanical keyboard experience to a new level.
The transparent jellyfish switches, elegant keycap design, and compact form factor make it an ideal choice for users seeking both style and performance in their typing and gaming activities.

Check out more of the Lofree 1% Mechanical Keyboard here!