Regular price
$119.99 USD
Regular price
Sale price
$119.99 USD
Unit price
per
Sale
Sold out
Turbo Brown Tactile switch

Operating force:40±10gf

Pre Travel:2.0±0.4mm

Total Travel:3.6±0.4mm

Operating Life:

80 million

Turbo Silent Red Linear switch

Operating Force:45±10gf   

Pre Travel:1.7±0.4mm  

Total Travel:4.0±0.3mm 

Operating Life:50 million
Features:
>84-Key Compact Layout.
>Dual-Mode Wireless Connectivity(Wireless 2.4Ghz/Bluetooth).
>White ambient backlight.
>Newly designed Square Rounded keycaps.
>High-Performance Custom Mechanical Switches.
>Up to 360 days of battery life.
>Iridium-plated connection mode switch.
>Full-key conflict-free operation.
>Adjustable height.
DURGOD Hi Keys is a brand new keyboard from the latest "Hi" series by DURGOD. It's a dual-mode wireless mechanical keyboard that supports wireless 2.4GHz, and wireless Bluetooth connectivity. You can easily switch between the modes with the help of an Iridium-plated mode-switching knob. The keyboard has an 84-key compact TKL layout with all-new square-shaped keycaps with a rounded top. It provides an excellent typing experience with its all-new customized mechanical switches. With its new shape and design, the DURGOD Hi Keys keyboard brings an all-new experience for the users!!
Dual-Mode Wireless Connectivity:
DURGOD Hi Keys mechanical keyboard features dual-mode wireless connectivity. It can be used with a wide range of devices including Windows, Mac, Android, and iOS devices. It automatically detects the connected system and adjusts the keys according to it.
All-New Design With Square-Shaped Keycaps:
DURGOD Hi Keys is an all-new keyboard with an all-new design theme. The keyboard looks spectacular as it features specially developed square-shaped keycaps with a rounded top. The rounded top allows for easy placement of the fingers and enables a comfortable typing experience.
Premium Mechanical Switches:
DURGOD Hi Keys keyboard comes equipped with customized Turbo mechanical switches. It gives the buyer a choice between Turbo Silent Red(Linear) and Turbo Brown switches(Tactile). The Silent Red switches have a durability of 50 million keystrokes while the Turbo Brown has got 80 million keystrokes.
Exquisite Atmosphere With Rich White Backlight:
DURGOD Hi Keys mechanical keyboard features an Ambient White backlight with pre-built lighting effects on the keyboard. It creates an elegant and vivid atmosphere for the users.
Long Battery Life:
DURGOD has equipped the Hi Keys keyboard with a built-in battery that provides up to 360 hours of usage with a single charge while using Bluetooth connectivity. Even with high-speed wireless 2.4GHz connectivity, Hi Keys has got over 200 hours of battery life.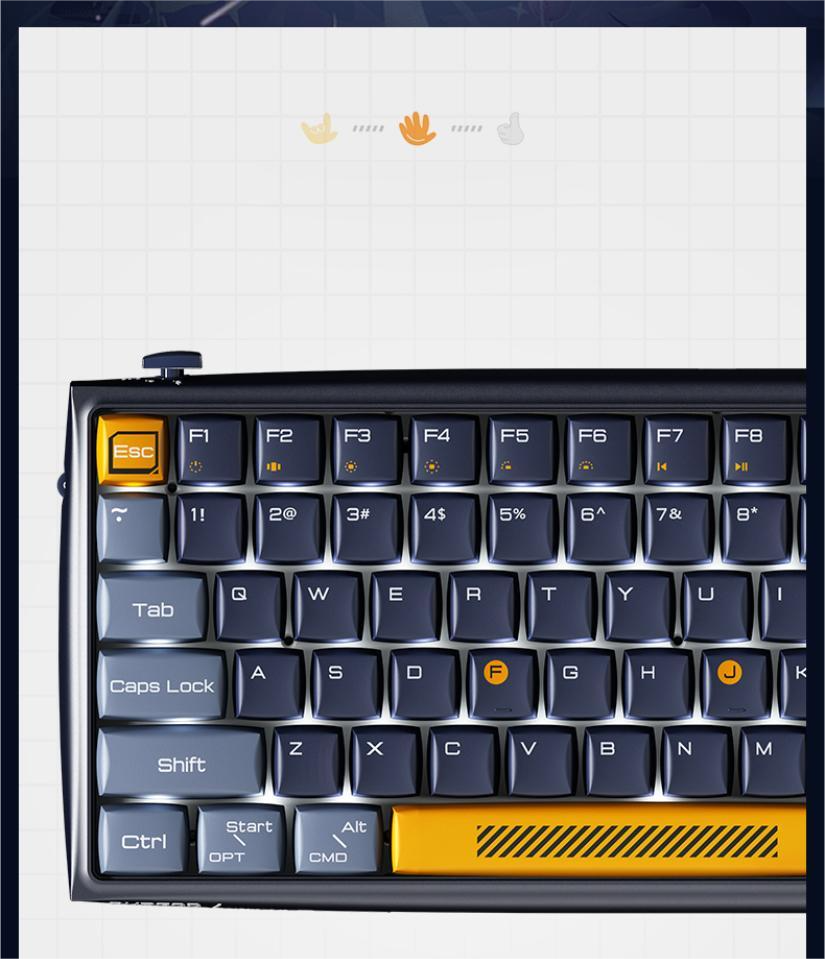 Share
View full details