Regular price
$109.00 USD
Regular price
Sale price
$109.00 USD
Unit price
per
Sale
Sold out
Features:
>Tri-Mode connections.
>Wireless 2.4GHz & Bluetooth V5.0 connectivity.
>Type-C USB Connectivity.
>Three device switching with Wireless connection.
>Durgod smooth switches.
>Hot-Swappable Switches.
>In-built Aluminum chassis.
>Compact 60% layout.
>Dual-coloured PBT keycaps.
>Lightweight design.
>Super long battery life.
>Durgod Zeus engine.
>Low-latency faster connection.
>Added silicone pads and cotton for quite acoustics.
>Available in 4 elegant color options.
Technical Specs:
>Dimensions: 300x112x36mm.
>Weight: 530 grams.
>Keys: 61.
>Polling rate: 1000Hz.
DURGOD K330W Plus is an ultra-compact 60% keyboard with a 61 keys layout designed with Durgod axis smooth switch profiles and hot-swappable switches. K330W supports Wireless Bluetooth V5.0 and 2.4GHz connectivity with low-latency faster connection with the source device. It also has a wired USB Type-C connection. DURGOD has made the K330W available in four very elegant color options, upgrade your desk space with this wonderful 60% keyboard today!!
Triple Connection Modes:
DURGOD K330W Plus has triple connection modes. We get the latest Bluetooth V5.0 connectivity(also compatible with V4.0), along with Wireless 2.4GHz low-latency connection support. It also has USB Type-C wired connection support. The DURGOD K330W provides full versatility for connectivity with multiple sources. For wireless devices, it can be connected to three devices with seamless switching support.
Ultra-Compact 60% Layout:
DURGOD K330W is an ultra-compact keyboard with a 61 keys 60% layout. Save up on your desk space with this ultra-compact keyboard that helps you do your work with a swift flow. The keyboard allows you to do precise and quick typing.
Double Shot PBT Keycaps:
DURGOD uses high-quality PBT keycaps for the K330W Plus keyboard. These keycaps have got premium double shot legends printing. The legends here just won't fade over time with their double-shot printing technology.
Hot-Swappable Switches:
On stock, the DURGOD K330W Plus comes with high-quality DURGOD switches. They are simply replaceable by the pull and plug method using a switch puller. The Keyboard has a hot-swappable design that allows us to change them easily.
Super Long Battery Life:
DURGOD K330W Plus keyboard has got extended battery life. It supports up to 240 days of standby time in Bluetooth V5.0 connectivity, in wireless 2.4GHz connection mode, it provides up to 180 days of standby battery life.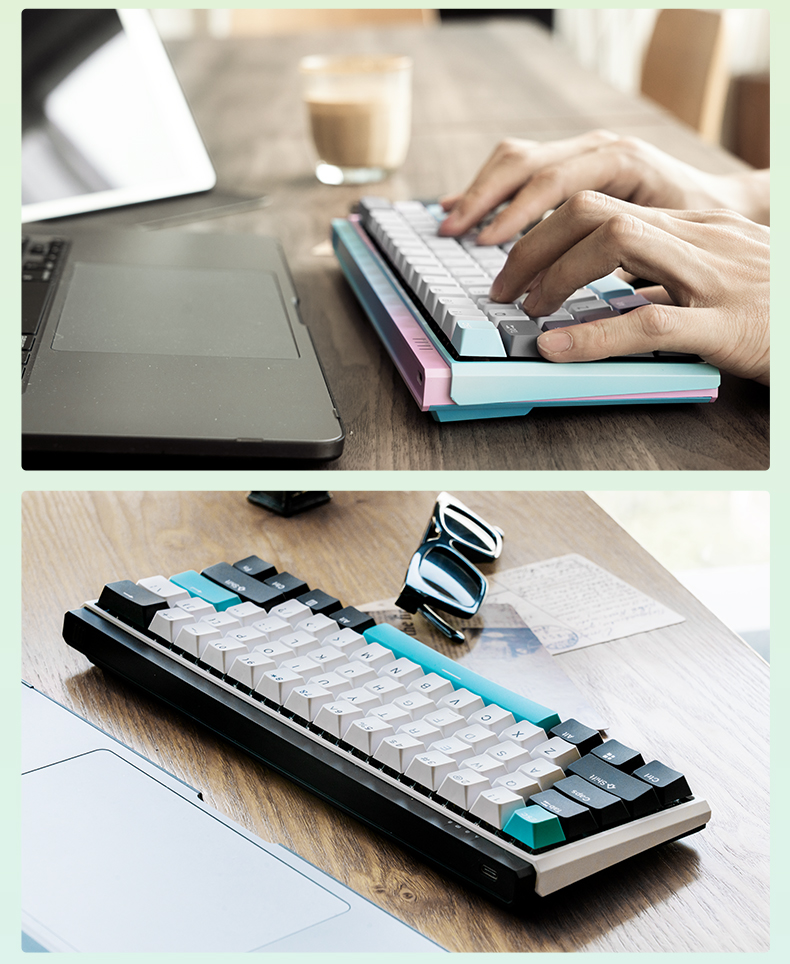 Share
View full details