Regular price
$199.00 USD
Regular price
Sale price
$199.00 USD
Unit price
per
Sale
Sold out
Features:-
>New Joyful Theme Keycaps & Chassis.
>Beautiful Red and White combination.
>Triple-Connection Mode.
>80% compact layout.
>Stepped Function Row Keys.
>Full-RGB backlit design.
>Seamless switching between devices.
>Hot Swappable Switches.
>OBSC(On-Board Storage Compartment) System.
>High-quality PBT keycaps.
>Costar style stabilizers.
>N-Key rollover.
>Detachable Type-C cable.
>Compatible With Both Windows & Mac OS.
>Long battery life with 4000mAh in-built battery.
Technical Specifications:-
>Number of Keys: 83.
>Material: PBT Keycap+PC frame.
>Switch options: Cherry MX/TTC.
>Lifespan: 50/100 Million Keystrokes.
>Connection: Bluetooth 5.1/ 2.4GHz/ USB Type-C.
>Response Time: 1ms(Wired/2.4GHz)/8ms(Bluetooth).
>Polling Rate: 1000Hz(Wired/2.4GHz)/125Hz(Bluetooth).
>Battery Capacity: 4000mAh.
>Cable Length: 150cm.
>Product Weight: 1140grams.
>Dimensions: 325x163x65mm.
IQUNIX OG80 gets a brand new variant, the OG80 JoyRide. With a bright Red and White combination, the OG80 Joy Vendor looks spectacular with its designer happy-themed keycaps. It has an 80% TKL layout with slanted Function Row keys, the same as the OG80 keyboard from IQUNIX. OG80 Joy Vendor creates a happy mood with its happy happy keycaps!!
Triple Connection Modes:-
IQUNIX OG80 has triple connection modes. It supports the latest Bluetooth V5.1 connectivity along with Wireless 2.4GHz, and Wired USB Type-C connectivity. OG80 Joy Vendor can be connected to a wide range of devices including Windows and MAC operating systems. Users can connect their OG80 Joy Vendor with up to 3 devices using a Wireless Bluetooth connection.
80% Layout With Angled Function Row Keys:-
IQUNIX OG80 series is known for its slanted function row keys. It not only offers a different design but also provides an easy typing experience. The keyboard has an 80% TKL(Ten Key Less) form factor. There's also a USB storage compartment placed right next to the Function Row Keys.
Happy Happy Design With high-quality PBT Keycaps:-
IQUNIX has given a joyful treatment to the keycaps of the OG80 Joyride keyboard. They get beautiful, joyful, happy-themed keycaps, you can even keep a smiling emoji on the ESC key. The keyboard is designed to spread happiness among its users. IQUNIX has used high-quality dual-toned PBT keycaps for the OG80 Joyride keyboard. Not only the Keycaps, IQUNIX has also treated the PC chassis with a happy happy design with happy faces!!
High-Quality Cherry MX and TTC Keycaps:-
IQUNIX OG80 Joy Vendor is available in multiple switch options. There are Cherry MX switches as well as TTC switches. They are available in Cherry Blue(Clicky(, Cherry Red(Linear), TTC Gold Pink, and TTC Speed Silver switch. Cherry MX switches have a lifespan of up to 50 million keystrokes while the TTC ones have a lifespan of over 100 million keystrokes.
Two Variants, With RGB and Plain Without Backlit:-
IQUNIX OG80 Joy Vendor is made available in two different variants, one with a full-RGB backlit design and the other without a backlit. Users can choose as per their liking.
Extended Battery Life:-
IQUNIX OG80 Joy Vendor keyboard has a 4000mAh battery that provides an extended battery life of up to 3000 hours on a single charge(With Bluetooth connected and RGB backlight off).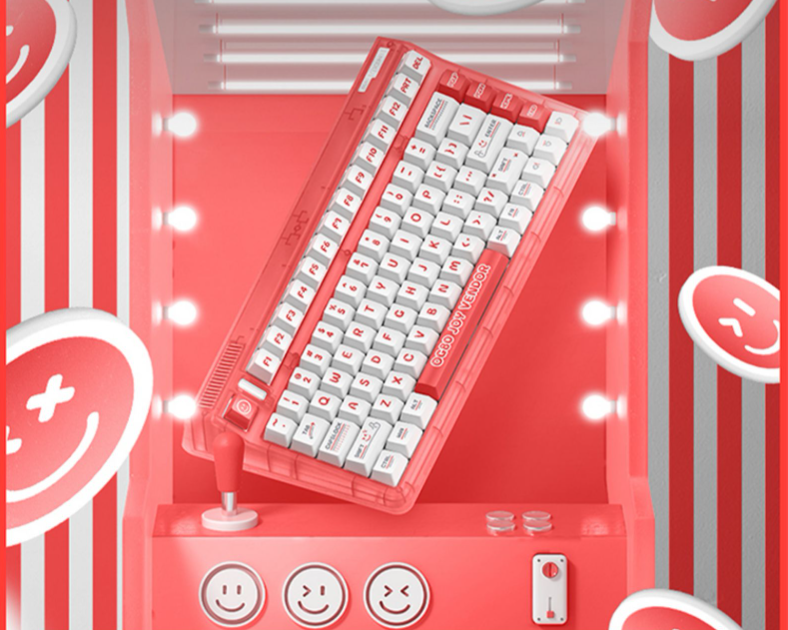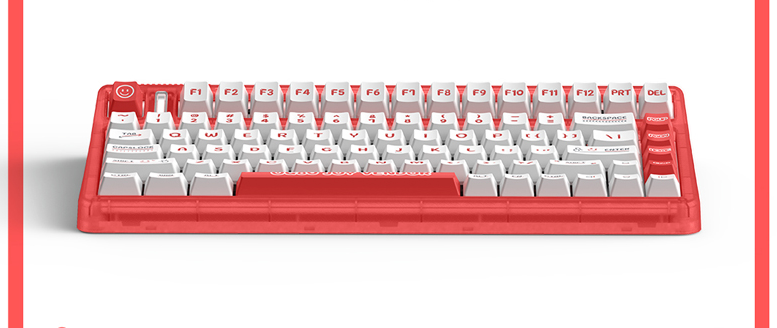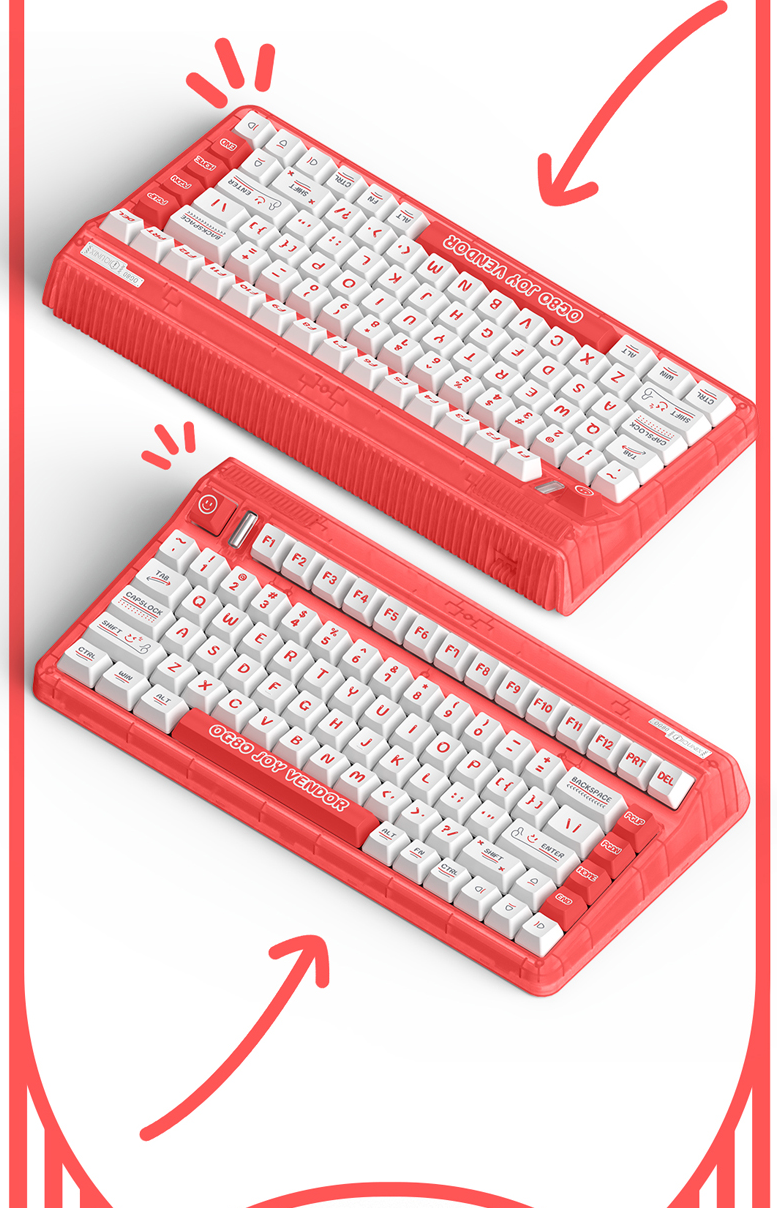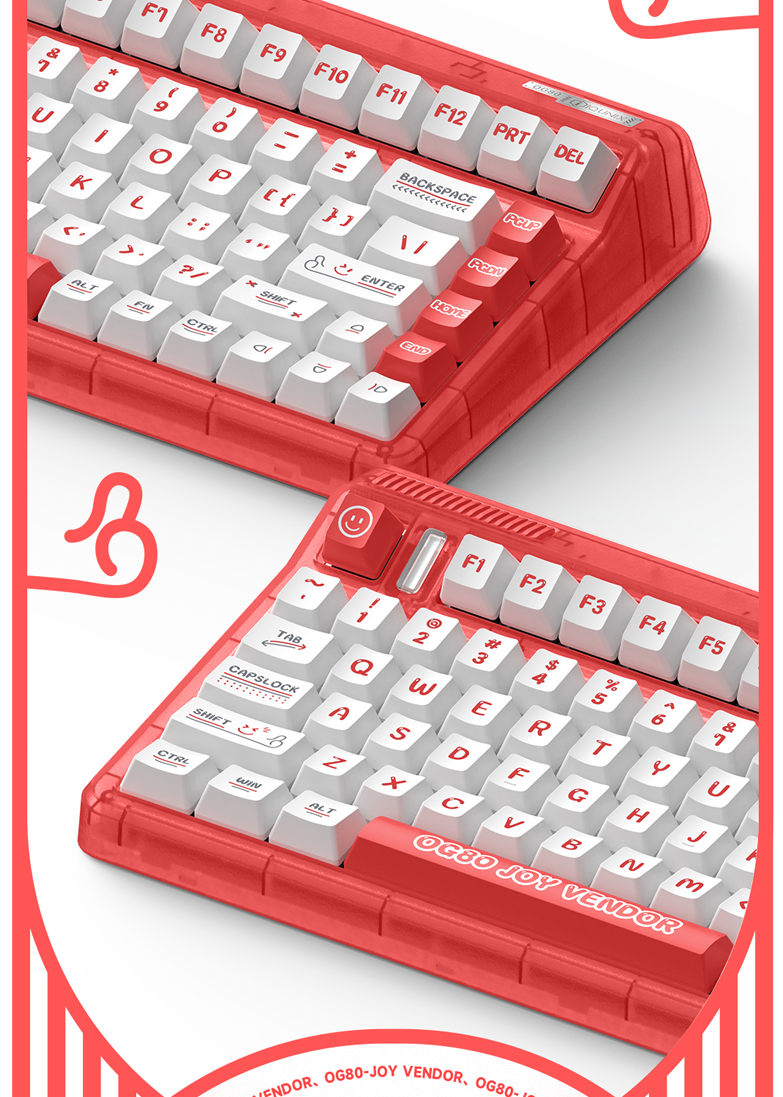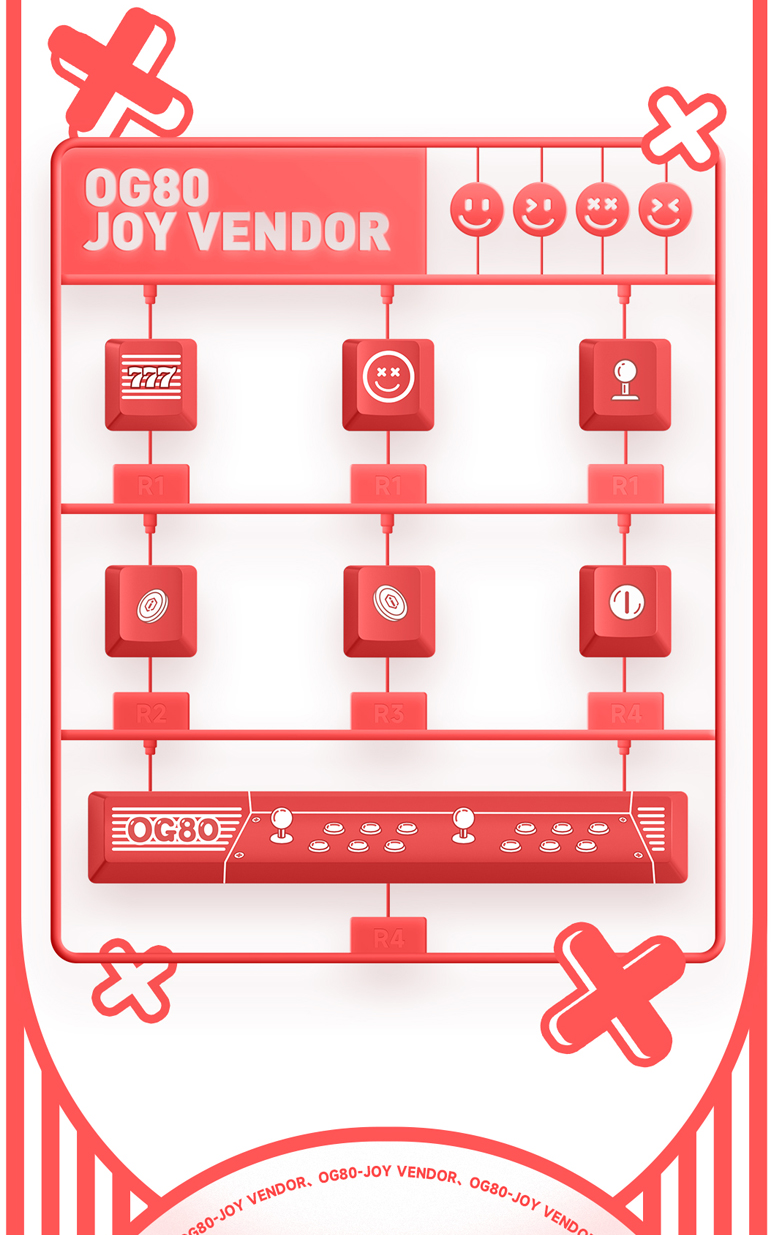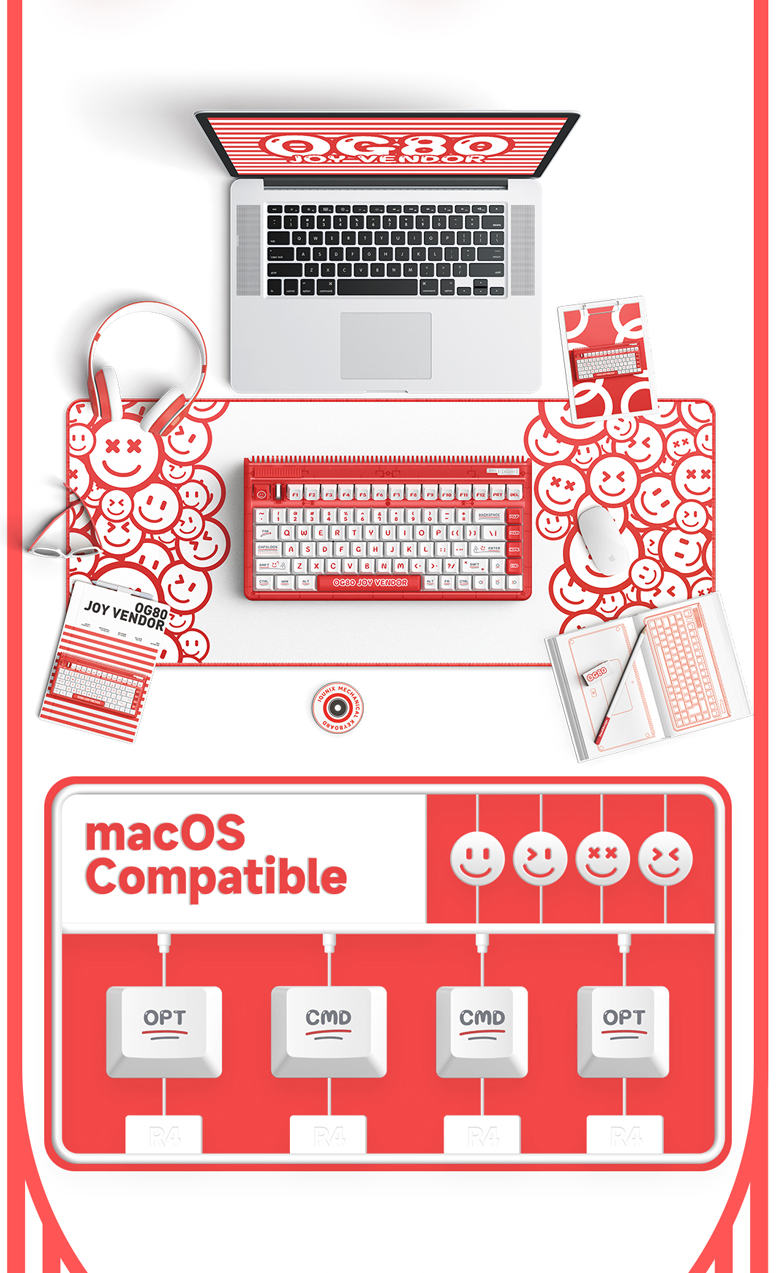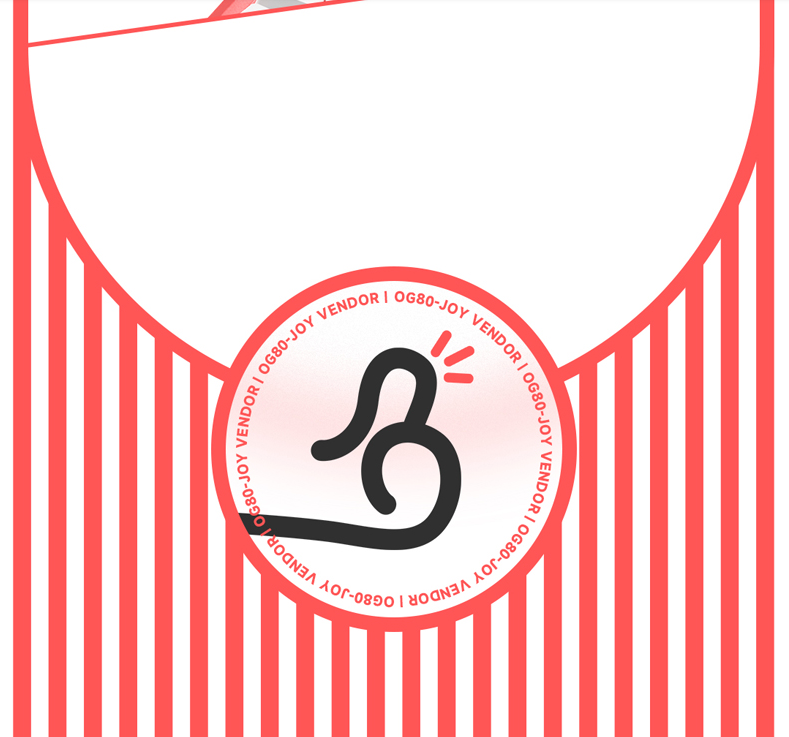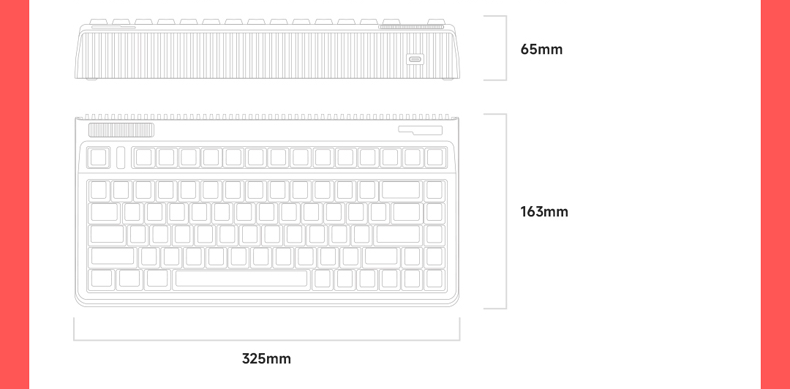 Share
View full details