Regular price
$192.00 USD
Regular price
$14.99 USD
Sale price
$192.00 USD
Unit price
per
Sale
Sold out
Bolgs: 
TTC Tiger Keyboard Switch - The Best Mechanical Keyboard Switch of TTC
TTC Tiger Switch standard edition installation experience
TTC Tiger Linear Switch Standard / Original ( Blacktop)

Operating force: 45gf
Pre Travel: 1.08mm
Total Travel: 3.7mm
Bottom force: 55gf
TTC

 

Tiger Linear Switch  RGB (Transparent top)

Operating force: 45gf
Pre Travel: 1.08mm
Total Travel: 3.7mm

, Pre-travel is 1.08mm
A good gaming switch needs to meet several conditions, which are light actuation force, short and proper actuation distance, linear and strong rebound. 
TTC tiger switch got all these elements:
Actuation force: 45gf, as same as MX Cherry Silver
Actuation distance: 1.08MM, 0.12 MM shorter than MX Cherry Silver(1.2 MM)
Initial force: 40gf, 10gf heavier than MX Cherry Silver(30gf)
Spring Length: 25.5 MM, 9.5mm longer than Normal Red, likely the longest spring among all switches.
Total travel: 3.7mm, Pre-travel is 1.08mm, Operating force is 45gf, and Durability is 100 Million. The duration is twice of ordinary mechanical switches
Notes:
The OG version switches are limited, only

 

TEN thousand

 

had been manufactured. Moreover, every OG tiger switch had been printed with its own ID.

 

OG version is extremely expensive

. BUT, the price of the standard version is very reasonable since the design, structure, and performance are completely the same between OG and the Standard version.
Features:
>Quick & Precise trigger response.
>Linear feedback.
>Extended 25.5mm spring.
>Quick rebound.
>Light trigger force.
>Lego construction.
>Five-pin design.
>Available in RGB and Non-RGB variants.
Based on the basic characteristics of a Tiger, the TTC Tiger mechanical switches offer a ferocious performance with light trigger force, quick trigger response, and a solid rebound. The switches are available in both RGB and Non-RGB variants with RGB variants having a transparent top cover and a condenser to illuminate the RGB effects nicely. Bring a new experience to your keyboard with the TTC Tiger mechanical switches!!
Blessed With The Tiger:
The top cover of the TTC Tiger switches not only have a Golden Tiger engraving but also has the ancient Chinese "Ren Yin" Character engraved onto the shell.
Quick Trigger With Light Trigger Force & Small Pre-Travel:
TTC Tiger switches offer a quick trigger response with an operating force of just 45gf and a pre-travel of just 1.08mm. They have the same pre-travel as the speed silver switches, promising a lightning-fast performance!!
Extended Spring For Quick Rebound:
In order to deliver a quick and soft typing experience, TTC has designed the Tiger switches with an extended 25.5mm spring. This long spring offers a smooth rebound upon key release.
Lego-Like Structure:
TTC Tiger switches are designed with TTC's patented Lego structure. The components are clipped together and offer an easy-to-use five-pin design. TTC Tiger RGB switches have 9 part construction while the Standard non-RGB switch has 7 part construction.
In this video, we unbox the OG version of Tiger Siwthc to show you the inside contents.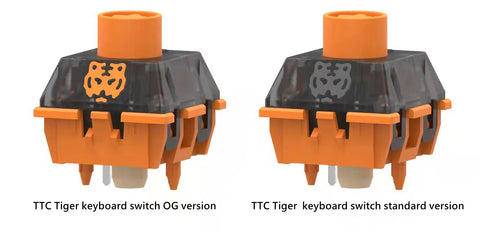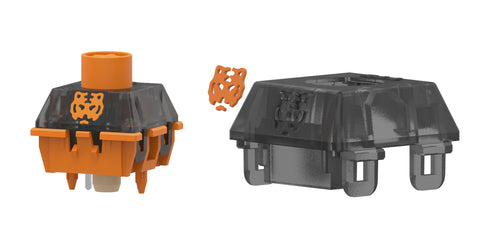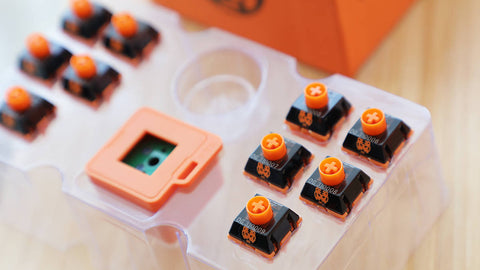 Share
View full details