Something about TTC
First of all, it is better to brief the background of TTC before introduce TTC Tiger Switches. Even though TTC switches have become more widespread within the wave of new switches in 2020 and 2021 such as KTT, Tecsee, and Durock/JWK, TTC is actually one of the few brands that has been around relatively longer than most people may realize.
TTC made its appearance as a brand of mouse micro-switches, digital encoders, and connectors all the time back in 1998. In 2005, TTC successfully developed the world's thinnest and longest life tact switch for Logitech mouse. This product was selected by the American Time Magazine (TIME) as one of the top ten innovative products in the world in 2006. TTC's mouse encoders and micro-switches have the largest market share in the world and have maintained the market share to this day. Now day, TTC had already became the partner of traditional companies such as Logitech, Dell, Razer, HP and new star companies such as AKKO, KBDFans and Matrix etc.
TTC didn't produce keyboard switches for the large majority in their earlier history, like most other switch manufacturers. They didn't get into switches manufacturing business until Cherry's MX patent expiration between 2014-2015. It's a bit too long for the introduction of TTC, next, let's dive into Tiger switch.
Origin of Tiger Switch:
Tiger is a symbol of agile, strong, king. Tiger switch's performance is exactly like a real tiger in terms of short pre-trave distance l (agile) and strong rebound (strong). TTC put all advanced manufacturing technology into Tiger switch, they are eager to raise Tiger Switch to be one of the best switch through 2022. It's good to see a company have the determination to create a good stuff.
(Note: Since the TTC Tiger switches come in two versions, I will majorly talk about the OG (Original) in this evaluation)
Tiger's Appearance:
Both Standard and OG variety has a orange stem and a half transparent black top housing and also the anti-corrosion coating surface of the leaves.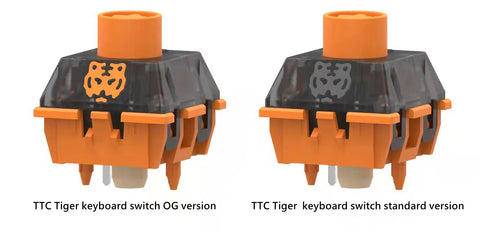 Figure 1: Orange stem and a half transparent black top housing
When it comes to mold patterns and markings on the top housings, the appearance of the TTC Tiger switches is a bit different with other modern era TTC switches. Tiger switch is carefully crafted a tiger head pattern. This tiger logo is made by a precision mold instead of a sticker. It requires a brand-new top housing mold only for Tiger switch.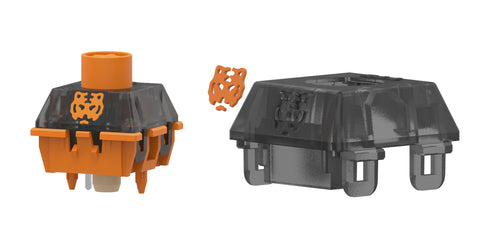 Figure 2: Tiger Logo
OG versions come with identification number on every single switch. From the announcement that TTC published, OG version will be limited manufactured. Tiger switches have a 'flipped' TTC logo raised within a shallow, imprinted rectangle on the switch's nameplate, which has been consistent throughout TTC's entire production history, dating back to the TTC Orange line. The four-pin top housings include mold injection and ejector marks on the sides of the top housing attachment clips, which appear to be constant across batches and switch types.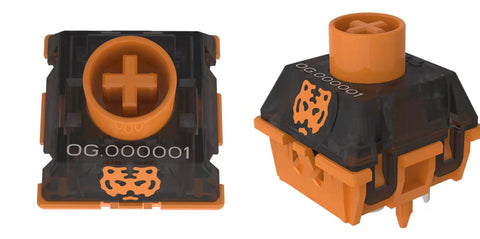 Figure 3: Identification number on OG version
Internally, the top housings include a few intriguing elements worth noting that haven't been mentioned in a previous review. Rather than the slew of different places they've been shown before, the more minute information in mold numbers for the top housings may be located on the far edges of the bottom of the nameplate region. Aside from this one-of-a-kind design choice, another intriguing characteristic is the 'ribbed' region where the top edge of the stem is seated and unpressed within the top housing. While the lateral stem enclosures within the top housings appear to be more robust in general than other molds noted previously as well, the ribbed design is a truly unique-to-TTC. Otherwise, the internals of the beat lodging are or maybe as anticipated with as it were minor varieties in plan focuses such as inside corner adjusting.
Tiger's

 

Structure:
1, The TTC Tiger switch is a Lego structure like that of the TTC Heart Switch. It features a lego-like construction, which mean we can choose variant case and bottoming out material. You can make the top housing have 4 different colors. Can create the stem in two-part, with a custom logo on the stem. It provides a custom space to all keebs.
OG version Tiger switch can be disassemble by 9 components, 1 more than Standard version, 3 more than traditional than MX Cherry.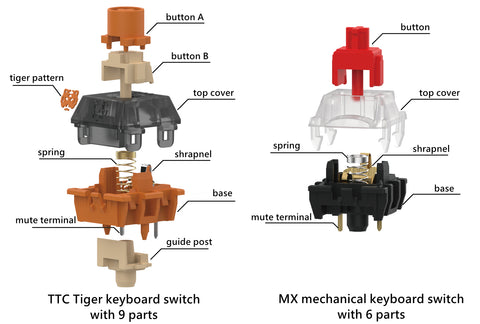 Figure 4: Tiger Switch Lego structure
2, It is easy to notice that the length of Tiger switch spring double the traditional MX red. The super long string will give you a strong rebound. Moreover, both of them are pre-lubed, just like other TTC switches, particularly around the bottom of the slider rails on the stems and the legs at the points where they touch the switches' leaves.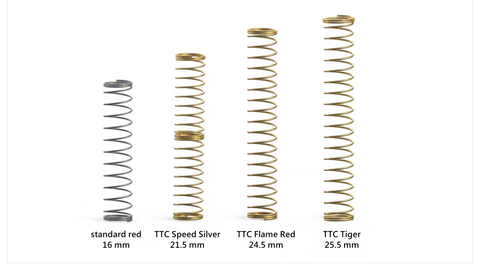 Figure 6: Comparison of the spring length between TTC switch and standard switch.
3, Anti-corrosion
As we all know, the material of the switch's bottom leaves is made of copper alloy. Tiger switch's feet adopt advanced anti-corrosion coating technology which means its surface was plated 99.99% metallic silver in order to prevent copper oxidation. It maintains the reliability and stability of the switch.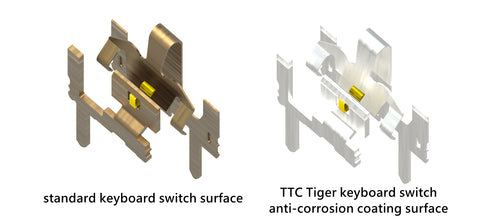 Figure 7:  Anti-corrosion used on TTC bottom leaves.

Figure 8: Dust and water proof detail
Tiger's

 

Package:
Finally, it came to the package of OG tiger switch. As mentioned on the top of the article, TTC is trying to raise Tiger switch to a very top level. Therefore, the package of the tiger switch is delicate in terms of the nice shape orange box.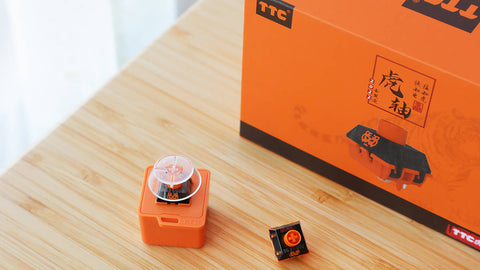 Figure 9: Delicate package
Moreover, both Standard version and OG version come with a TTC Tiger Switch Tester.
Reference:
1, The introdcution of TTC and 'ribbed' region is refer to TTC Wild Switch Review from Theremingota.
https://www.theremingoat.com/blog/ttc-wild-switch-review