Introduction:
Welcome to the era of customization, where personalized keyboards have taken the market by storm. As a renowned manufacturer of keyboard switches, TTC offers a diverse range of options to cater to every need. Among its impressive lineup, you'll find the TTC Gold Dust switch, featuring a unique long spring structure that offers a gentle touch and responsive feedback, making it the ultimate tool for office productivity. For gaming enthusiasts, TTC presents the QuickSilver switch, renowned for its rapid 1.08mm actuation, precise rebound, and anti-ghosting properties, making it the perfect weapon for esports. TTC also offers a variety of other switches, including the Lego-style Heart switch, Tiger switch, and Rabbit switch, as well as the high-performance Venus and Neptune switches, all of which have garnered high praise in the market. With continuous technological advancements and integration of information, TTC's extensive range of customized switches, along with their innovative technologies, sets the trend in the market.
1. Pioneering Technological Innovations: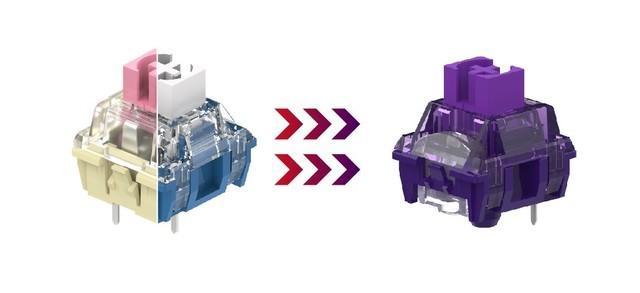 One example of TTC's commitment to technological innovation is the Flame Purple switch, a superb switch suitable for both office work and gaming. After a year-long analysis and application of materials, TTC was the first in the industry to adopt the durable and low-noise POK material for the Flame Purple switch, combined with an extended switch core for excellent tactile feedback and Hi-Fi typing sound. The popularity of the POK material quickly spread among competitors, thanks to TTC's pioneering efforts. Another notable innovation from TTC is the Double-Sided Wall Dustproof Structure:


This unique design minimizes switch core movement, resulting in a more solid and satisfying tactile experience. The TTC Double-Sided Wall Dustproof Structure features an open design with two walls on either side of the conventional cross-shaped switch core. By utilizing the keycap mounting column and the double-sided walls, a seal is formed, effectively preventing dust. The dustproof capability of TTC switches is more than three times that of regular dustproof switches, which is why it holds a national patent certificate (ZL201620103314.9).
The TTC Double-Sided Wall Structure is simple, compatible with MX keycaps, and reduces key wobbling, providing a stable and solid feel loved by gamers. As a result, this design has been widely imitated and replicated by competitors.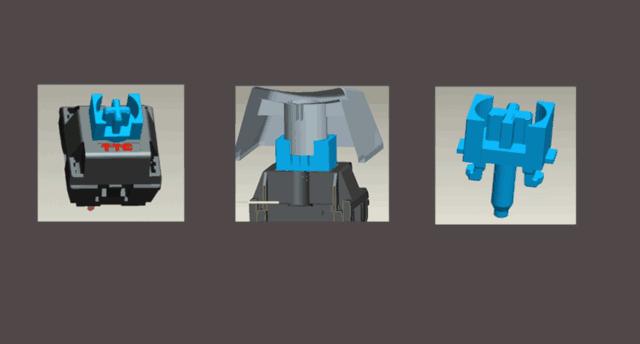 2. Powerful New Product Launch:
TTC never rests on its laurels. On April 20th, TTC introduced the all-new "Steel Series" switch, offering both linear and tactile options. The Steel Series switch features a mini-blade design that reduces amplitude and minimizes switch sound. It incorporates new modified materials and optimized internal mechanisms to further enhance smoothness and minimize noise.

Addressing the common complaints of "switch sound" and "metallic sound," TTC has made further improvements to the Steel Series switch. Conventional switches tend to produce high-frequency vibrations when the internal metal leaf rapidly closes and disconnects during fast keystrokes. TTC reduced the size of the internal metal leaf and shortened the lever arm length, effectively reducing vibration amplitude and frequency, thus minimizing the noise generated by vibrations.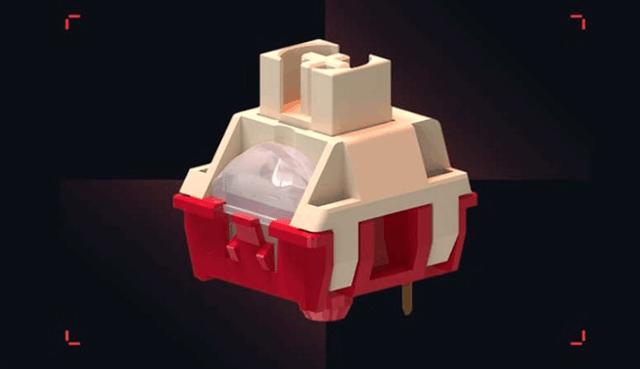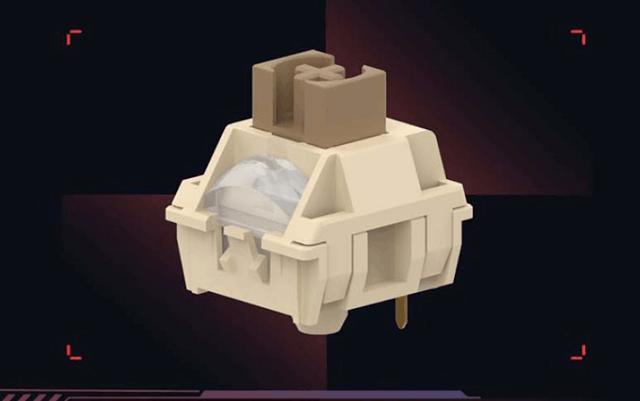 To optimize performance, the TTC Steel Series Linear switch offers a total travel distance of 3.8mm, with an actuation point of 1.4mm. It features an initial force of 32gf, an actuation force of 41gf, and a bottom-out force of 50gf, ensuring a lifespan of 80 million keystrokes. Paired with transparent keycaps, it offers an excellent visual and tactile experience. The TTC Steel Series Tea switch is a tactile switch with a large pre-travel distance, featuring an actuation force of 55gf and an actuation point of 42gf, with an overall travel distance of 3.3mm.

The core, upper housing, and lower housing of the TTC Steel Series switch are made from upgraded POM material. This material exhibits excellent surface lubrication, ultra-low friction coefficient, and high wear resistance, ensuring a smoother experience over time.

POM (Polyoxymethylene), also known as Acetal or Delrin, is an engineering plastic with excellent comprehensive properties. It possesses hardness, strength, and rigidity similar to steel, earning it names such as "Super Steel" or "Ultra Steel." However, it does have certain inherent shortcomings, such as higher shrinkage rates (1.5%-3%) compared to commonly used PC materials (0.5%-0.7%) or nylon (0.3%-0.6%). The wide shrinkage rate range of POM can result in significant dimensional variations, poor consistency, compromised precision, and reduced toughness when exposed to thermal decomposition during processing.

To improve the overall properties of POM, material modification and upgrading methods are commonly employed. These include the addition of inorganic or organic substances to POM, blending with different types of polymers, copolymer grafting or cross-linking, and combining various methods to enhance dimensional stability, reduce friction and wear coefficients, and improve rigidity, strength, notch sensitivity, and impact resistance. The modified POM material used by TTC exhibits exceptional wear resistance, self-lubricating properties, and dimensional stability.

Due to the wide variation in shrinkage rates for POM, the dimensions of the molded parts are greatly influenced by factors such as the stability of the injection molding machine's pressure, precise injection cycle time, and parameter variations. Considering these characteristics of POM, TTC employs the latest ADS electric system fully automatic high-precision injection molding machine from the renowned Japanese brand, JSW (JFE Steel Corporation). This machine boasts the industry's fastest 62μs ultra-high-speed servo motor control system, with IWCS controlling the front-stage sol density, effectively suppressing dynamic deviations in plastic volume and component output, ensuring high precision and stable dimensions of the switches.

Furthermore, the Steel Series switch features an independent light guide column structure, with a semi-circular shape on top for improved spotlight effect. The semi-circular part is specially designed to enhance soft light effects, further enhancing the overall lighting aesthetics.
Conclusion:
TTC, with its genuine commitment to providing high-quality products and services, introduces the innovative 2023 TTC Iron Mechanical Switches. With its small blade structure, reduced switch sound, and upgraded POM material, TTC ensures superior precision control, enhanced tactile feedback, smoothness, and impressive durability. The proof of a brand's value lies in the strength of its products, and TTC continues to bring us more excellent keyboard switches, constantly surprising the market with its offerings.
For further information on the TTC Iron Mechanical Switches, check out here.